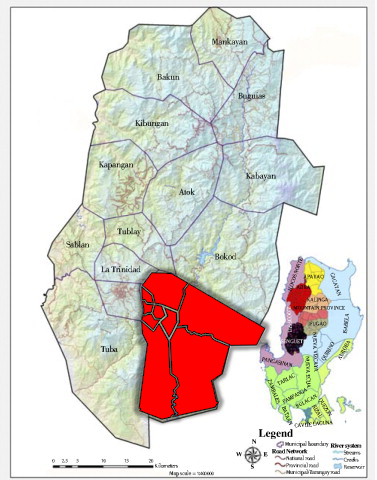 Itogon is set at the southern end of the Central Cordillera Mountain Range forms into an irregularly shaped area oriented along the north-south direction. It is generally mountainous in terrain with deep valleys and steep slopes. Elevation varies from 2,025 meters above sea level, particularly in Mt. Yabaong of Barangay Tinongdan in northeast, to 100 meters particularly in the areas approaching San Manuel in Pangasinan at the Southern tip. Running from the south in northern and eastern direction, the elevation rises to the thousand meters mark, the highest spot elevation of which is at 2,150 meters above sea level found at Mt. Ugo on the eastern portion adjoining the province of Nueva Vizcaya.
In terms of slope percentages and land area covered per slope category, above 50% slope makes up 74%.6 of the municipality or 37,150.8 hectares.
Slope
CLASS

AREA

PERCENTAGE

Above 50%

30-50%

18-30%

8-18%

3-8%

0-8%

Warebodies

37,150.00

9,163.20

1,842.60

5,97.60

199.20

448.20

398.4

74.60

18.40

3.70

1.20

0.4

0.9

0.8
The principal drainage system of the municipality is the Agno River. It originates from the slopes of Mt. Data farther up north, flows towards Pangasinan before meandering westward towards Lingayen Gulf. An eccentrically dendritic network of tributaries feeds it. Some sections of the main river channel and the contributing streams are locally controlled by faults. Artificial impoundments of surface flow are found at Binga on the northern end area and on the western portion where the mine tailings/wastes of the operating mines are stored.
Climate
Itogon is classified under the type II climate or the two pronounced seasons, the wet and the dry. The dry season lasts from December to March and the wet season is the remaining months. The average monthly rainfall ranges from 17.0mm for February to 1,432.9mm for August.